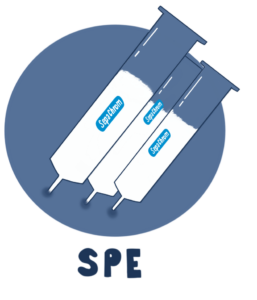 Solid-phase extraction (SPE) is a sample preparation technique routinely used in analytical laboratories for the extraction of analytes from a complex matrix. This sample preparation technique enables the extraction, cleanup and concentration of analytes prior to their quantification.

SepaChrom offer a wide range of SPE items produced by well-known market leader manufacturer
to assure High Quality products due to strictly controlled processes in both production and quality control steps.

SeClute, Extract-Clean, Maxi-Clean, Vydac and Purolite offer a comprehensive range of products to face all your sample preparation challenges, including Ion Chromatography SPE.
In production for over 35 years (formerly by Alltech) this line includes >30 media types is over 10 different bed weights.
Eliminating interfering components in many IC application is not an issue anymore with Ion Chromatography SPE cartridges.
The Luer Hub cartridge format offers a number of interesting manual processing options, including multimedia extractions.
PuroPhase™ SPE adsorbents are made of robust, synthetic, scalable, reliable, reproducible polymers with different hydrophobicity and porosity.
No compromise on quality – simply the best value in SPE!
Over 30 Tests to assure the highest quality of SPE products.
300A silica based material ideal for extraction, concentration and cleanup of biological samples as Proteins and Peptides.